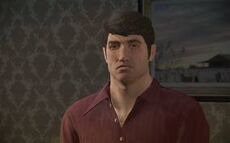 Dominic was
Aldo Trapani
's right-man man then took over the Trapani family after aldo's death in Cuba.Dominic is also responsible for the deaths of Carmine Rosato,Tony Rosato,Rico Granados,Samuele Mangano,Esteban Almeida,Henry Mitchell,and Hyman Roth.He is also believed to kill every don,underboss,consigliere,capo,and soldrier in the corleones way.He is the main prontagonist in the godfather II.
Ad blocker interference detected!
Wikia is a free-to-use site that makes money from advertising. We have a modified experience for viewers using ad blockers

Wikia is not accessible if you've made further modifications. Remove the custom ad blocker rule(s) and the page will load as expected.