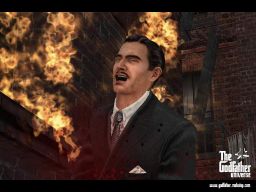 Johnny Trapani is the father of the main character, Aldo Trapani. At the beginning cutscene, he meets his wife, Sarafina. A bakery (which appears to be one he owns according to a quote by a Barzini thug) explodes and he rushes over to find his son Aldo Trapani. He instead is pulled into the alley and attacked by some Barzina soldiers, after fighting and defeating them, Don Barzini steps in. Don Barzini orders his death and his minions kill Johnny stating that it's simply business. Aldo watches the scene and Don Vito appears saying to him to save his anger. He tells Aldo that when the time is right, Aldo will have his revenge.
Ad blocker interference detected!
Wikia is a free-to-use site that makes money from advertising. We have a modified experience for viewers using ad blockers

Wikia is not accessible if you've made further modifications. Remove the custom ad blocker rule(s) and the page will load as expected.