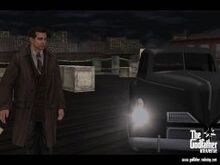 Name: Michael Corleone
Date of Birth: October 15, 1920
Date of Death: May 9, 1997 (Age 76)                   
Family: The Corleones
Michael Corleone is the third son of Don Vito Corleone. He was a soldier in World War II and was condecorated as a war hero. He plays one of the major parts in the game. The player recieves the gun used to kill McGlusky and Solozzo. The player then hides the gun in the washroom. After the assassination, the player drives Michael while being pursued by the enemy family. They say their goodbyes and Michael leaves. He flees to Sicily for protection under Don Tomassino. There he falls in love with Apollonia and marries her. As part of the vendetta, Apollonia is killed. Michael should have been the murdered one but she rides on the car to impress Michael. He knows about the death of Sonny Corleone and returns to USA. Don Vito retires and promotes Michael to Don of the Corleone Family, in the absence of Sonny. Michael marries Kay Adams a year later. Don Vito dies. At the end of the movie and also in the game he orders the deaths of the Don of the rival Families while the baptism of Connie's son is celebrated. He also orders thes death of Carlo Rizzi and Tessio for being traitors to the family. After this, he became The New Godfather. Tessio was the one who set up the meeting with Barzini. The Don had warned Michael that this would be the traitor He also let John Corleone be his underboss.
See also
Edit
Ad blocker interference detected!
Wikia is a free-to-use site that makes money from advertising. We have a modified experience for viewers using ad blockers

Wikia is not accessible if you've made further modifications. Remove the custom ad blocker rule(s) and the page will load as expected.