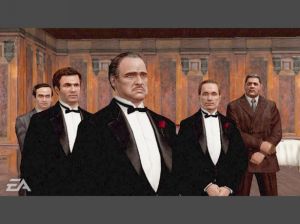 The Corleone Family was a once powerful crime family. Created by three Italian immigrants in the first half of the 20th century- Vito Corleone, Peter Clemenza, and Salvatore Tessio. Their operations run from the Genco Olive Oil Company. After the death of Don Vito, the Family is ruled by Michael Corleone, who becomes the new Godfather. There are four other Families, ordered according to the game difficulty, the Tataglias being weaker and Barzinis being the stronger ones:
Ad blocker interference detected!
Wikia is a free-to-use site that makes money from advertising. We have a modified experience for viewers using ad blockers

Wikia is not accessible if you've made further modifications. Remove the custom ad blocker rule(s) and the page will load as expected.